Crispin Porter + Bogusky is inviting you to commit a blatant act of road joy in a new Volkswagen.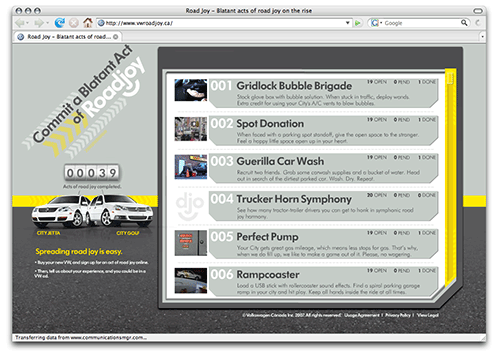 Kinda like The Gypsy Cab Project meets This Diary Will Change Your Life.
There's some nice 'missions', like #003 Guerilla Carwash (wash the dirtiest car on your street), #068 Operation Warm and Fuzzy (deliver some blankets to a homeless person you see), and #080 Automatic Park Assist (guide some stranger in as they do a reverse park).
I'd have liked to see the missions that didn't get past legal : )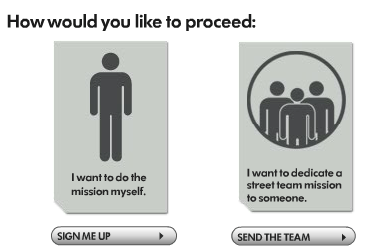 I have signed up to #075 (take someone to the airport), even though I'm not in Canada and not technically able to take part with my crap, non-Volkswagen car. But will do so anyway to avoid bad carma.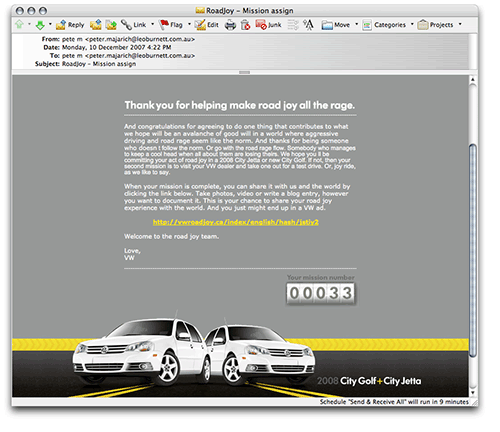 Although this improve-your-effect-on-the-world-with-our-brand type of campaign is becoming increasingly common, it works well for VW, because their brand is actually feel-good.
(Ie- it's harder to swallow when this kind of thing comes from a bank).
And yes, there are missions that let you negate the effect of greenhouse gas your Volkswagen has.
Nice work.