With just 244 days (Aug 08, 2008) to go until the Beijing Olympics it's probably a good time to flag any Olympic promotions with your client. It's like the last minute Xmas cards they they forgot to brief you on.
Cashing In:
Just like The Ashes companies officially sponsoring the event will be there in full force but so will sidelined companies with no sponsorship dollars in the pot. Oh and the portals will be there in full force too capitalizing on increased traffic and page impressions that the event should generate.
Good news for Australian broadcasters is China shares a similar time zone with Australia so the events won't take place at 3am. Hazaah! for TV spends.
I checked out the official Beijing Olympics site and found a funny mistake in the first section I clicked on. They have a section to help people learn other languages. All the audio files are provided in an annoying Windows Media format but the English one I tested was wrong.
There is going to be a lot of people asking for their passport when they really want to change rooms. This section must have seemed like a good idea but the way it's presented online is useless. I could dissect it further but the mistakes are obvious.
You can also check out the Official Australian site for the 2008 games. In all it's blue and confusing hierarchy glory.
Mascots:
You can also check out the official mascots called FUWA, which are cute pandas.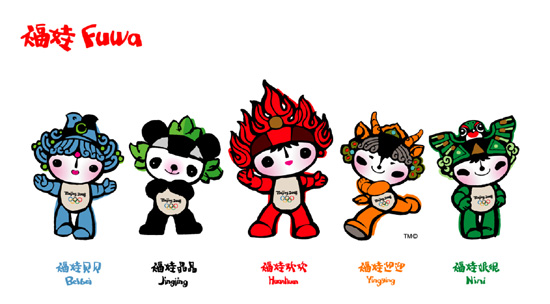 Although not as cool as the Vancouver 2010 Winter Olympic Mascots.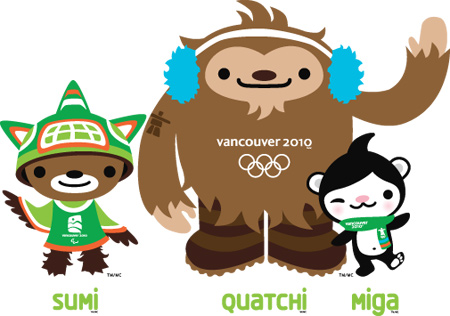 How long until we get pixel mascots?
Here's a site that has archived the Olympic mascots although hasn't updated for a while.
I'm looking forward to the Olympics next year(for both sporting and business reasons) as Australia just doesn't cut the mustard in the Winter games and in the Commonwealth Games we dominate too heavily. (Sorry England and Canada we kicked your asses.) With the Olympic games it's a real competition.