Ecological Strategies in Today's Art (part 1).
Ecomedia – Ecological Strategies in Today's Art, currently running at the Edith Russ Haus in Oldenburg, presents projects founded on progressive ecological models and conceive utopian horizons in the process.
Tue Greenfort's contribution to the show is a simple plastic bottle. Just a bottle… until you have a look at the title of the sculpture: "Producing 1 Kilogram of PET Plastic Requires 17.5 Kilograms of Water and results in air emissions of 40 grams of hydrocarbons, 25 grams of sulfur oxides, 18 grams of carbon monoxide, 20 grams of nitrogen oxides, and 2.3 kilograms of carbon dioxide. In terms of water use alone, much more is consumed in making the bottles than will ever go into them" (2004). I can't dream of anything more self-explanatory. The object is a 1.5-liters mineral-water bottle which, under the influence of heat, has melted down to the size of a half-litre bottle, and was then filled with tap water. The artist's piece demonstrates that the production of a non-returnable bottle requires more water than it can actually contain.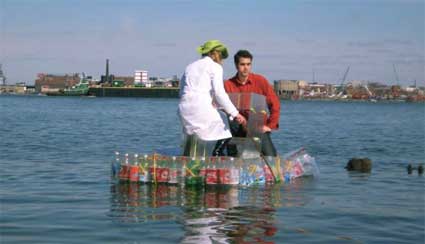 Natalie Jeremijenko's Environmental Health Clinic Meeting on plastic raft (image)
Talking of which, there was a raft made of plastic bottles on the grass outside of the Edith Russ Haus building. It's Natalie Jeremijenko's office. At the exhibition opening, she invited people to jump on it and share with her their environmental anxieties. Best is to have a look at the video presentation that GOOD magazine made of the Environmental Health Clinic project.
GenTerra, by Critical Art Ensemble with Beatriz da Costa, used a harmless form of gut E. coli to educate the public about genetically modified organisms.
If you scroll down the page you'll be able to see a video of a GenTerra performance which is currently screened at Edith Russ Haus.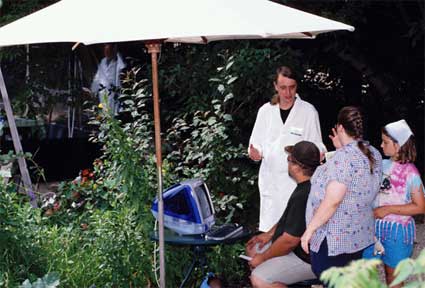 GenTerra, 2001, performance at St. Norbert Art and Culture Center, Winnipeg, Manitoba, Canada (image)
GenTerra is a fictional biotech company dealing with "transgenics" and driven by profit, but also by a sense of social responsibility. Products created through this process—-for example, transgenically modified foods—-have often caused controversy. GenTerra claims to produce organisms that help solve ecological or social problems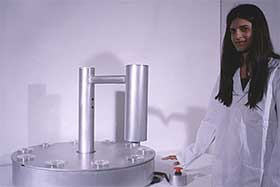 GenTerra is essentially a participatory "theater" comprising a lab, computer stations displaying the company's informational CD-Rom, and a bacteria release machine. Scientists and artists are talking the public through the process and implications (whether they are purely profit-driven or feature some utopian qualities) of transgenics. Materials are then provided to allow people to get a hands-on experience by creating their own transgenic organism, using human DNA derived from blood samples. After that they become actively involved in risk assessment by deciding whether or not to release bacteria from one of petri dishes of the release machine. 11 of the dishes have non-transgenic bacteria samples taken locally, and one contains the transgenic bacteria. Should the dish with the transgenic bacteria be selected, a robotic arm will open the lid of the dish, and then replace the lid on the dish after about 5 seconds. The transgenic bacteria is in fact a benign, crippled lab strain that is released in laboratories on a routine basis.
This form of participatory experience attempts to make the whole issue less abstract and distant and by doing so, it provides the public with the critical tools to reflect on how significant the transgenic issue is and how it is going to reflect their everyday life.
The Critical Art Ensemble defense fund page informs that the FBI is still refusing to return most of the tens of thousands of dollars worth of impounded materials. The reason for that is that the art collective was using the harmless bacteria and materials in several of their projects, one of them is GenTerra.
Andrea Polli had two projects in the exhibition, the beautiful The Queensbridge Wind Power Project is a video (which you can watch online) for transforming the Queensborough bridge into a site for gathering clean, renewable energy.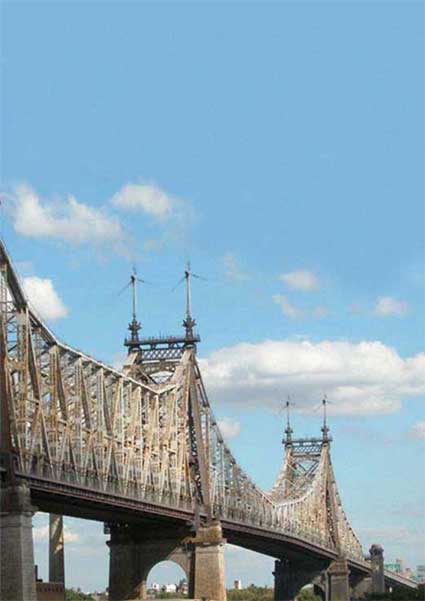 Andrea Polli: The Queensbridge Windpower Project, 2005
The second project she was showing is a collaboration with Joe Gilmore. N. is an artistic visualization and sonification of near real-time Arctic data.
Franz John's Turing Tables takes live seismological data and turns it into pictures, sound and movement.
Seismological institutes measure the vibrations of the Earth and exchange the data collected among themselves via automated internet-transfers. Turing Tables feeds into this human-machine-communication data stream and translates it into an installation which bathes visitors in audio renderings and projections of live measurements made by seismographs all over the world.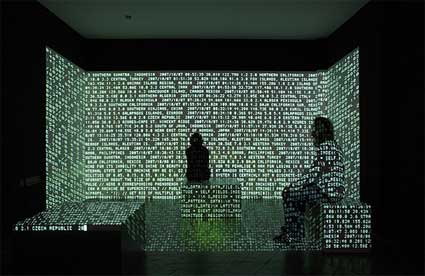 Franz John: Turing Tables. An Untitled Composition for Tectonic Spaces, 2003-2007 (Foto: Franz Wamhof)
The project is not about the catastrophes that cause these movements in inhabited areas, but instead about the archaic feeling and consciousness that the earth is an organism, that it moves and that it can be understood as an organism in constant flux.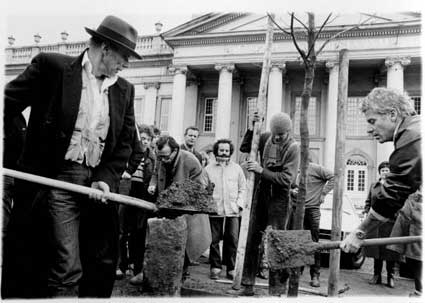 Beuys at Documenta 7, photo by Günter Beer
I liked 01.org's Reenactment of Joseph Beuys' 7000 Oaks, 2007. My first reaction when i saw the project was "oh! No, not flugly Second Life agaaain!" but this "synthetic performance" has the merit of bringing the spotlight on a very inspiring work. In March 1982, Beuys was at Documenta 7 in Kassel with a mission: planting of 7000 trees, each paired with a columnar basalt stone approximately four feet high above ground, throughout the greater city of Kassel. The last tree was planted posthumously in 1987 by is son. Beuys intended the Kassel project to be the first stage in an ongoing scheme of tree planting to be extended throughout the world as part of a global mission to effect environmental and social change; locally, the action was a gesture towards urban renewal. 25 years exactly after the planting of the first tree, Eva and Franco Mattes of 01.org (or rather their avatars) started stacking virtual basalt stones on Mattes' island in SL. SL inhabitants are invited to participate to the performance by placing stones and trees on their land.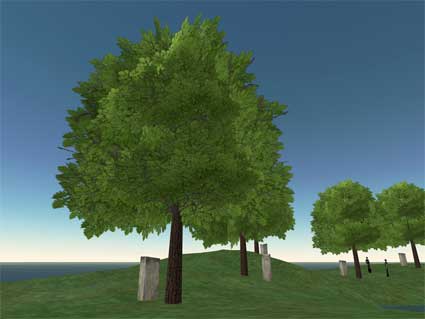 Eva and Franco Mattes aka 0100101110101101.ORG, Reenactment of Joseph Beuys' 7000 Oaks
Infossil had a huge banner hanging above the reception desk of the art space. The white on black text reflects about the dependence of electronic communication, that is of the "infossil", on the energy resources available, the fossil: coal.
Also on show: Sabrina Raaf's Translator II: Grower was painting grass on the wall; EcoScope, a communication tool developed by Transnational Temps, provides a context for discussing environmental affairs; 10 Commandments for the 21st Century, by Tea Mäkipää; Iñigo Manglano-Ovalle's You don't need a weatherman; Christoph Keller's The Whole Earth, a projection on a weather balloon. White clouds over a blue sky form the perfect picture of the peaceful blue planet we live on, there's even piano music for perfect bliss. Every two minutes, a roaring aircraft brings us back to reality. Its passage takes one or two seconds but that's enough to spoil the idyllic vision (image); Yonic, a NGO working in Brazil to diminish pollution in the rain forest and find new solutions to old problems, showed the fanzine they publish on a yearly basis using handmade recycled paper.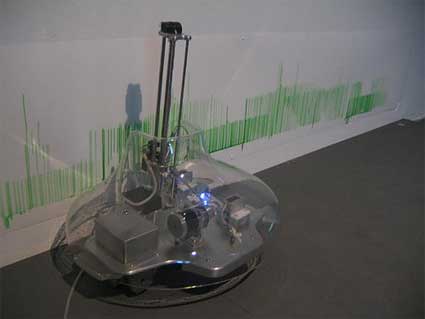 Sabrina Raaf: Grower, 2004/5
Now that was a fantastic and energizing exhibition. If only we can get more people to see it, not just the already converted.
Set of images.
Related entries: Natalie Jeremijenko's talk at Stifo@Sandberg conference, They make art not bioterrorism.