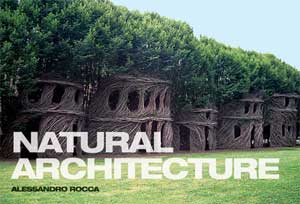 Natural Architecture, by Alessandro Rocca (Amazon USA
and UK
).
Publisher Princeton Architectural Press says: Natural Architecture presents sixty-six site-specific installations that use raw materials, manual labor, and natural stimuli to create truly green architecture that is as organic as the materials with which it is created. Projects by Olafur Eliasson, Patrick Dougherty, Nils-Udo, Ex. Studio, Edward Ng, nArchitects, and many others are shown together for the first time. Selected for their commitment to the use of raw materials, manual labor, and natural inspiration, these works are vividly displayed in photographs, drawings, and models. These fantastical creations allow the changing landscape to naturally overtake each structure until it finally decomposes. Each project is accompanied by a series of photographs, drawings, and models. The rugged and surreal beauty of the projects in Natural Architecture question the wisdom of our ever accelerating construction processes and point a way forward, toward a new organic simplicity of structure and form.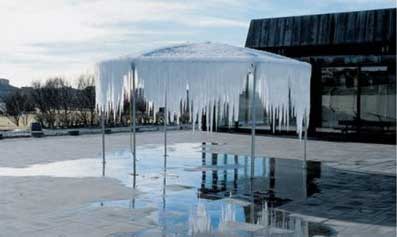 Image on the right: Olafur Eliasson, Ice Pavilion, Kjarvalstadir, 1998
Natural Architecture is what the author calls a "little paper museum" which showcases the way artists and architects are creating small and medium-size buildings using the resources of the location and respecting growth process and natural phenomenon. Following the rules of nature used to be the only available option. That was a very long time ago. Today it's more a matter of installation art. The works presented in the book are therefore in most cases not to be regarded as structures built specifically for the purpose of having people to live or work there. The creators featured in Natural Architecture are affiliated with Land, Earth, Environmental, Bio or Conceptual art and not so much with architecture. Which doesn't mean that these works have no relevance for architecture as they provide a space for discussion about the conventions and process of architecture.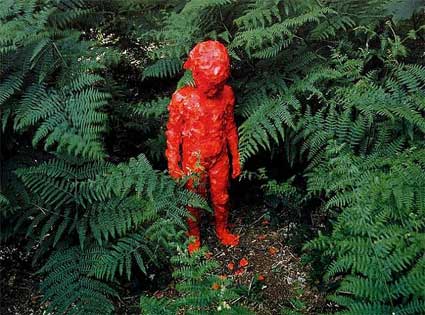 Niels-Udo, Child, wet petals of poppies, bracken, ilfochrome on alluminium
It's a very quiet 200 page book. You get all the words right from the start, after that that's just pictures after pictures with only a statement from each artist to open the chapter dedicated to their work. Inside the book, there are works i find downright awful and other which are so amazing that i promised myself that i'll try to follow the field more closely. In the meantime two discoveries:
Nils-Udo who has been exhibited his site-specific all over the word since the 80's.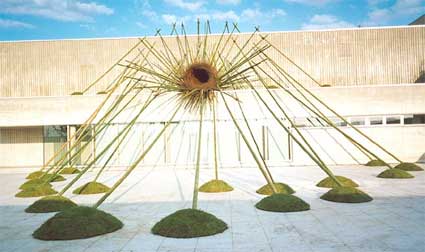 Morioka Spider, Japan, 2002. Bamboo bars, branches, earth, grass planting, ilfochrome on alluminium
(more images of his work)
Patrick Dougherty is the glamorous one. Dougherty used to be a carpenter and creates fairytale experiments (see front cover of the book) using tree staplings, weaving and nest motifs.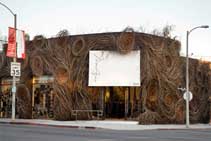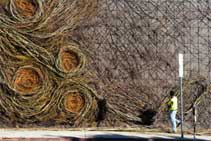 Installation for a Melrose Avenue boutique, using tree sapling as construction material
Videos following the creation of some of the artist's installations.