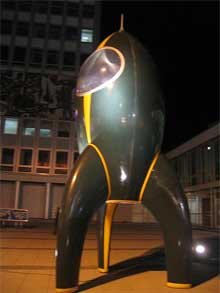 Yeah! Another year has passed (Best wishes to all of you, dear readers!), another Chaos Communication Congress has just ended in Berlin.
You'll find of course loads of pictures, some videos of the talks on google videos, you tube, while official conference recordings will be online soon.
Hack A Day has a post on Antoine Drouin and Martin Müller's presentation of DIY autonomous unmanned aerial vehicles and another one where Phenoelit gives the lowdown on barcode security.
One of the talks i attended was Rose White's. The history of guerilla knitting looked at the overlapping issues in the knitting and hacking worlds. The video is yours to download. Here's a few words and links to complete the picture.
Rose White is a sociology PhD student in New York, she's been knitting for over 15 years and she used to own a yarn store in Brooklyn, named Yarnivore.
She started by showing a few examples of "knit graffiti" mainly by knitta but we've also discovered those lovely cosies for anchors installed by Maskerade in Stockholm.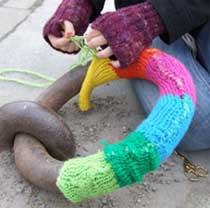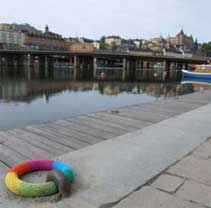 But knitting is not difficult so people discovered how to do it and knowledge spread in the community. Knitting then followed two different paths: the industrial production the home made kind, mainly socks and small pieces of clothing.
Late 19th century, Gansy.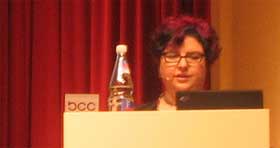 Over the course of the next 50 years, attempts to codify knitting patterns, to make them distinguishable and proprietary. The yarn and needles sellers would provide you with a specific type of information: "To make this jumper you will need x balls of our yarns and will have to use this size of our needles." You would not know how many meters of yarn this makes for example. Industry possessed the means and modes of production by the '60s.
Another schism happened at the end of the '60s and beginning '70s. Then enters our heroin: Elizabeth Zimmermann. She was commissioned to make a sweater. She gave it to the company but they re-wrote the patterns using a proprietary system. Disgusted by the process, she started her own company and she'd invite knitters to be the boos of their knitting, distinguishing the "blind followers" from the "thinking knitters." The point was to put the control of what was going on back into the hands of the knitter. It's like Linux versus Windows.
In the 1960s and 1970s, Barbara Walker authored knitting books which have become landmarks for their comprehensiveness and clarity. She devised knitting instructions which were understandable to all, not just to english speakers.
Debbie New's Labyrinth knitting.
Norah Gaughan, a biologist who uses scientific notions in her knitting.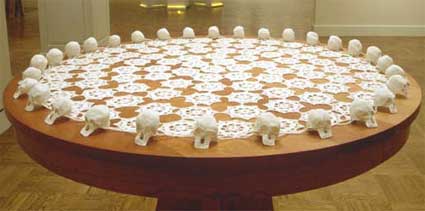 Hildur Bjarnadóttir, Untitled (skulls), 1999
Radical Lace & Subversive Knitting at the Museum of Arts & Design, in Manhattan (more images). The MAD used to be called "The American Craft Museum" until it was re-named less than 5 years ago. Now of course craft is starting the get back it technique and skills undertones.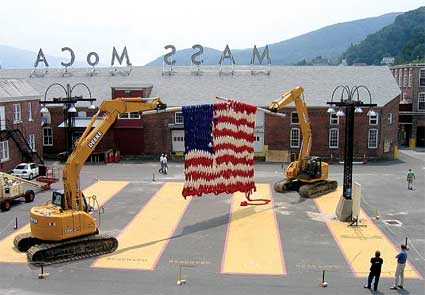 Dave Cole's "Knitting Machine" project used two excavators wielding telephone poles as needles to knit a giant American flag in the courtyard of the Massachusetts Museum of Contemporary Art.
The artist also made a series of poisonous Lead Teddy Bear which marries ideas of coziness and danger.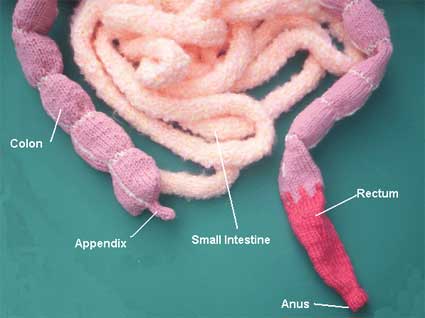 Knitted Digestive system. Instructions to knit a womb.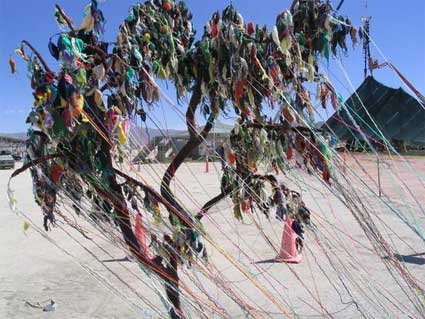 A Tree Undone, the artist brought a tree to Burning Man, wrote a pattern explaining how leaves should be knitted, and together with the citizens of Black Rock City knitted thousands of leaves. They were not bound off so each leaf could unravel in the wind.
People knitting red mittens for the statue of Lenin in Seattle. Other knitters, this time in New York making boots and scarves for statues of horsemen.
2 websites: Ravelry, a database and social networking site for knitters and knitML, an attempt to develop and promote adoption of a standard content model for knitting patterns.
A last one for the road: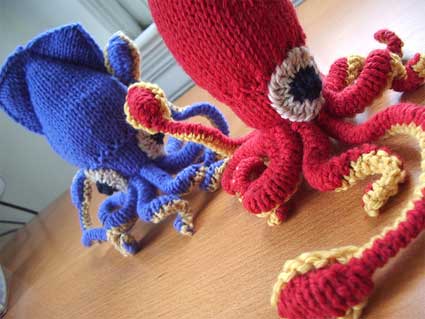 Hansigurumi "because squids are the new skulls."